This Nepali to English Translation Dictionary gives you an extraordinary opportunity to bury yourself into the foreign languages. This innovative application was processed by the professional individuals and is updated and changed in due course.
The following Nepali to English Translation Dictionary is an offline application awing to which you can look for the latest and the unique entries and find not only their translations variants, but also their definitions, synonyms and antonyms.
The above mentioned app has several benefits that come to differentiate it from other iOS applications:
Information about the discipline of structural linguistics by offering essential enough sentences.
Wide-ranging synonyms and antonyms with their American and British English pronunciation variants.
Trustworthy translations of colloquial and formal words as well as conjugation of verbs and declension of nouns.
Availability of various word definitions which will greatly impact on your understanding and deepening of a foreign language in a detailed way.
A distinction of a section named "Favorites" with the possibility of saving here as many unknown words as you wish.
Thorough analysis of parts of speech (noun, verb, adjective, adverb) and their grammatical functions (subject, object, etc.).
A possibility of this innovative application usage without an internet access.
Existence of contemporary words such as "Woot", "OMG", "Crunk" and many others.
Being an offline dictionary this Nepali to English Translation Dictionary can be used regardless of place, time, mood and money.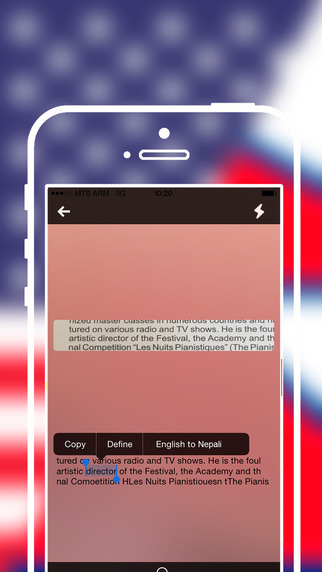 The following app is often updated and from time to time the number of words will vary. If you have any complaints or suggestions about our app you can contact us by our Facebook account.
We look forward to hearing your new ideas and offers and we will definitely address your concerns as soon as possible.