This Mongolian to English Language Dictionary with a glossary of well over six hundred thousand English translations to Mongolian words and phrases and vice versa is the best in Free Offline Dictionary samples. Start using this application and you will be pleasantly surprised by the speed and the quality of this Mongolian to English Language Dictionary.
We have done all in our power to make this dictionary the best tool for you to learn a foreign language as our aim is to serve our user's language needs. Among the features of the above mentioned dictionary are
Looking up a word in the dictionary and finding its meaning faster than in any other online dictionary. All you need is to start typing the word and our application will instantly display the most likely results.
Getting synonyms and antonyms of the tapped words with more than three hundred thousand synonym word count.
Finding a huge collection of idioms, phrasal verbs as well as slang terms and contemporary words with their audio pronunciations.
Creating unlimited lists of the unknown words in a section called "Favorites".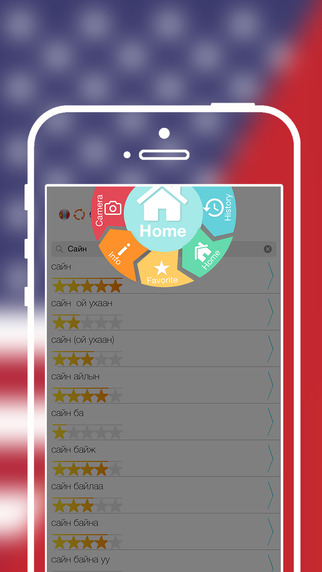 This Offline Mongolian to English Language Dictionary has several enhancements that make it the most comprehensive and advanced Offline Mongolian to English Language Dictionary for iPhone, iPad and iPod Touch.
We afford you an opportunity of downloading this application without charge and using it without an internet access. We are profoundly sure that you will never find a substitute for this app.